Immunological Profiles of Mice Protected from Chlamydia-induced Infertility by Anti-caspase Treatment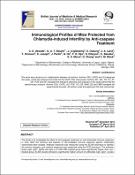 Publisher
SCIENCEDOMAIN international
Abstract
The study is to investigate the effect of anti-caspase treatment on anti-chlamydia immune response in mice. Both the humoral and aspects of cell-mediated immune response against Chlamydia trachomatis were studied. Antibody response was measured using the ELISA technique to identify all common isotypes, and cytokine response was measured using the PCR technique. The antibody levels (IgG, IgG1, IgG2a and IgA) in Z-VAD-FMK treated group were significantly higher than nontreated group. ELISA results [showed a significantly higher amount of antibodies (IgG, IgG1, Ig G2a and IgA)] were produced in the mice that were pre-treated with Z-VAD-FMK before infection with Chlamydia trachomatis compared to mice post treated with Z-VAD-FMK after Chlamydia trachomatis infection. Data of the study indicate that the caspase inhibitor, Z-VAD-FMK did not negatively affect humoral and T cell mediated immune responses against C. trachomatis in mice.
Keywords
Research Subject Categories::NATURAL SCIENCES::Chemistry::Biochemistry
,
Chlamydia trachomatis
,
anti-caspase treatment
,
immune response
,
infertility
,
mice
Citation
Ukwade, C & Ebuehi, Osaretin & Igietseme, Joseph & Ouburg, Sander & Land, J & Omosun, Y & Joseph, K & Partin, James & He, Q & Eko, Francis & Ellerson, D & Bandea, Claudiu & Morré, Servaas & Zhong, G & Black, Carolyn. (2016). Immunological Profiles of Mice Protected from Chlamydia-induced Infertility by Anti-caspase Treatment. British Journal of Medicine and Medical Research. 15. 1-9. 10.9734/BJMMR/2016/23921.
Collections